December 31, 2020
ON TAPE FOREVER VOL #10 - HAPPY NEW YEAR BONUS EDITION! RELEASED ON BÖC YOUTUBE CHANNEL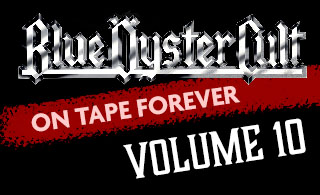 A week before the show that was captured for "A LONG DAYS NIGHT" I taped the show in Racine, WI to send to the director. When looking for "bonus" items I found this one in the box.
Subscribe to our YouTube channel here: youtube.com/blueoystercultofficial
---
VOLUME TEN CONTENTS:
BÖC in Racine, WI, June 14, 2002.
---
Note: The quality is sometimes less than stellar (especially on some of the oldest material), as the "master tape" for many of these is a VHS cassette from an in-house video system.